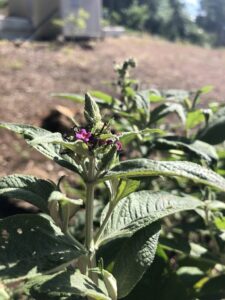 She declares her resilience.
This is my butterfly bush. Up until three weeks ago, she happily resided in my front yard. I planted her there three years ago and she grew tremendously. I was consistently pruning her because she was quickly outgrowing her space. This Spring I decided to do something a little more drastic in order to allow her to grow to more of her full potential. I chose to move her…to a new space, new soil, new exposure to sun. She would have room to grow as big as she wanted if she could survive the transition. I decided her potential beauty was worth the risk.
I took a shovel to her ground and began to uproot her, trying as carefully as I could to protect her roots. A few of them were holding on so tight to the old soil that I couldn't take them with me. I had to cut them. I hoped the rest of her was strong enough to recover from leaving some pieces of her in the old soil.
I planted her in the new unfamiliar ground and I watered her everyday. Despite my watering, over the next week all her leaves wilted. Over half of them turned brown and dropped off. She was in "root shock": The state a plant enters into when they are abruptly moved out of their comfy rooted spot and put into an unfamiliar place where they have no grip. I was sure I'd killed her for the sake of giving her freedom. Regardless of how she looked, I watered. Everyday, I showered her hoping to see a sign of resilience.
Week 2 came and went with no change. Brown was her covering. Still I watered and believed. Then, week 3 arrived and I began to see a shift. Fresh green was faintly emerging from her browned branches. I watered & watered. Today, I went to check on her and to my joy, I found a gift. A tiny purple blossom holding its head high. Her declaration to me that she was resilient. Her shout that she could go through hard things and come out thriving. She would bear fruit even on the other side of upheaval and letting go of her familiar. She was willing to go through the discomfort of transition to experience the joy of new freedom. Space to grow and become as big as she wanted to be. The strength she developed in the transition would be what sets her up to be able to grow to new heights.
I've always said gardening is so spiritual to me. Jesus meets me in the dirt every single time and this experience was no different. As I celebrated her tiny blossom with Him and thanked Him that she was not only going to survive but thrive, He said to me "Yes I know. Isn't she amazing? She is you." 😭🙌🏼 And isnt she all of us who are overcomers? If you're going through an upheaval in your world, receive her blossom as yours today ❤️You were created with resilience in you.
"The LORD will guide you always; he will satisfy your needs in a sun-scorched land and will strengthen your frame. You will be like a well-watered garden, like a spring whose waters never fail." Is 58:11