How do I start? Every word feels small. It's the one I've been waiting to write for four years. We've been hiding a sweet secret in our hearts that we want to share: Miracle Baby Brinson is growing strong & will be here in JULY 2020.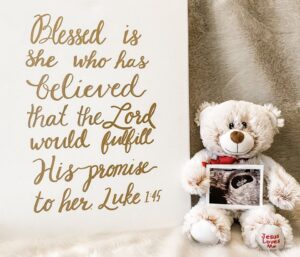 There is so much my heart wants to say, but for now, here is where I'll start. Deep thankfulness and thrilling joy are overflowing in us. The Lord is the God of miracles and He is faithful to see every promise He speaks come to pass. His love and faithfulness are unstoppable and relentless.
To all of you who have journeyed with us over the last 4 years: You've prayed with/for us, shed tears with us, hugged us when there were no words, encouraged us in truth, believed with us, and held our arms of faith up when we felt tired…this feels like as much of an answer to your prayers as it does our own. "The prayers of a righteous man (and woman) avail much." Thank you so very much.
To the mamas still in the waiting: I love you and I'm with you still. Finding so many of you in this journey has brought me encouragement and given me a kind of friendship that I never knew I'd need. I'm declaring my breakthrough over you with an "AMEN" – "do it again Father." What He will do for one He WILL do for another. You are seen. You are heard. You are not forgotten or skipped. You are precious and He sees and loves your mama-heart. He is faithful and good always. He wants to give you even more of Himself in this waiting place. You can come out of the driest dessert more in love with Him than ever before because when you came to the end of yourself, you fell into His arms. I pray you catch His gaze and hold it forever.
To our three babies in heaven: Ezra, sweet girl, thank you for letting your baby sibling have your first teddy bear here (and thank you to my mom for giving it to both of them!). Loving you three first has stretched my heart out to love your brother/sister even more than I thought possible. Thank you for awakening my mama-heart and teaching me how to fight for your lives. There are no prayers like the prayers for your child, even an unborn one. Thank you for pushing me into a new place of contending in faith in intercession. Thank you for filling my heart up even when you couldn't fill my arms.
To Zach: You are a rock, best friend, heart of wisdom, arms of compassion and voice of truth to our family like I never dreamed a husband could be. You are my hero. There is no one else in the world I would choose to walk this road with. I love the family motto we crafted in these years "Brinson's shine brightest in hard places." You are seriously going to be the best dad – you were made for Fatherhood.
And to precious Jesus
: My words fall so very short. You are the treasure of the dessert. You met me in the barren place and showed me a love that has changed me deeply. "Sing o barren woman, you who never bore a child…for your maker is your husband, the Lord almighty is His name." (Is 54). The song you wrote with me here has elevated me to sing notes I never knew I could reach. You've swept me off my feet with the depths of love, hope, trust and surrender you've brought me into. And yet, this is just a dip in the vastness of your heart. I'll never stop diving. I'm forever captivated and overwhelmed by you. You turned dry dessert into a watering hole where my spirit was nourished, loved, cared for, and romanced by your presence like no other season in my life. Thank you for the gift of this precious baby, but even more, thank you for the gift of you. Nothing compares to you.
In 2015 before Zach and I began to try to grow our family, Zach had a dream where he saw me getting ready to deliver a child. In the dream the Lord spoke and said the baby would be a Psalm 126 baby. We pondered and read that chapter. It didn't really make sense to us at the time. We had no clue as to what our journey into parenthood was about to look like, but as the years have passed and we stand here today, the words make perfect sense:
"When the Lord restored the fortunes of Zion, we were like those who dreamed. Our mouths were filled with laughter, our tongues with songs of joy. Then it was said among the nations, "The Lord has done great things for them." The Lord has done great things for us, and we are filled with joy. Restore our fortunes, Lord, like streams in the Negev. Those who sow with tears will reap with songs of joy. Those who go out weeping, carrying seed to sow, will return with songs of joy, carrying sheaves with them."
The Lord has done great things for us and we are filled with joy. We'll be carrying our little "sheaf of Joy" with us in July. And how sweet is it that July was also the due date month for our first baby. The Lord redeems all things, even timelines of life that the enemy stole. Thank you for celebrating with us. All glory to King Jesus.